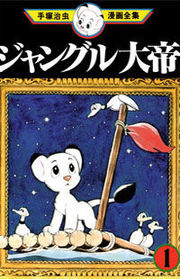 Jungle Taitei (Jungle Emperor) is a three volume manga by Osamu Tezuka first published between 1950 and 1966. It is the basis of Kimba the White Lion, Leo the Lion (Onward, Leo!), and Jungle Emperor Leo.
0. The Death of Panja
1.The birth or Leo
2. To the city
3.the mystery if the moonlight stone
4.the first steps in Africa
5. Jungle symphony
6. The legend of Androcles
7. Queen Conga
8. On the Banks of the Donga River
9. Conga's tears
10. The battle
11. Little Ones
12. Leaving the Native Land
13. A man named Adam Dandy
14. The Castle
15. In New York
16. The Green Plague
17. The documents of Mt. Moon
18. Lune returns home
19. The Big Crevise
20. Mountain dangers
21. Epilogue
It has been re-released in Japan several times, and has also been translated and published in Germany, Italy, France, Brazil and Taiwan. Recently a bilingual Japanese-English release of the manga (containing only the first half of the manga) has been released in Japan.