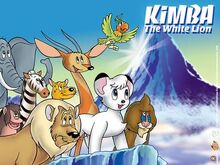 Kimba the White Lion (Jungle Emperor) is the first anime adaption of the Jungle Emperor manga. It was released in 1965 in Japan and 1965 in America. In 1993 a new dub was released and is currently broadcast in countries around the world.
Below is a list of the episodes with their 1965 dub titles in Japanese release order, as NBC scrambled them and this carried over to the original Right Stuff VHS tapes.
Episode List
Edit
2. The Wind in the Desert
10. Two Hearts and Two Minds
16. Diamonds in the Gruff
19. The Mystery of the Deserted Village
23. The Gigantic Grasshopper
24. Gypsy's Purple Potion
26. A Revolting Development
27. The Chameleon Who Cried Wolf
29. The Nightmare Narcissus
30. Adventure in the City
36. The Monster of Petrified Valley
37. Legend of Hippo Valley
41. Destroyers from the Desert
42. The Balloon the Blows Up
43. Monster of the Mountain
46. The Return of Fancy Prancy
51. The Day the Sun Went Out
52. Silvertail the Renegade
In Episode 15 and 16, Crocodiles are called alligators, but alligators are only found in north america.
In Episode 20, Aardvarks are called river hogs, but in real life Aardvarks aren't related to pigs.
In Episode 33, Egrets are called Herons.
Resources
Edit