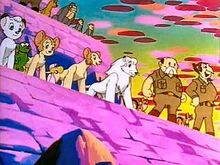 Leo the Lion (Onward, Leo!) is the sequel series to or second season of Kimba the White Lion (Jungle Emperor).
The series is noteworthy for exploring Kimba as an older character and introducing his children. The ending of the series it's different from the original manga.
Below is a episode list in Japanese release order with the English dub titles.
4. The Last Hunt of the Ahabi People
8. The Case of the Moonlight Stone
14. The Saber-Toothed Tiger
16. Lily the Black Leopard
19. A House for the Animals
24. Adventure at Volcano Island
26. The Eternal Mount Moon
Resources
Edit